The Smart Way to Meet Event Reporting Requirements
The AFDAU-T1 provides automatic bucket calibration and digital data collection. Simplifying the need to meet reporting requirements for aerial firefighters. The AFDAU-T1 is compliant with the U.S. Forest Service's (USFS) ATU requirements.
Connecting to sensors onboard, the AFDAU-T1 processes data and generates events in real-time using highly accurate algorithms.
Complete visibility over your events
Accurate, reliable, affordable and requiring absolutely no pilot input,
it's the smart choice for aerial firefighting operators.
Automatic Data Collection for Accurate Reporting
AFDAU-T1 accurately and efficiently records information on bucket operations, including bucket capacity, volume dropped, engines tarts/stops, aircraft takeoffs/landings.
Automatically Detects Container Capacity
AFDAU-T1 automatically adjusts to your bucket or tank capacity toensure accuracy and efficiency. No pilot interaction is required evenwhen swapping buckets in a slung load configuration.
Paired with RockAIR or DZMx, meets NAFC Standard OPS-14 Requirements
AFDAU-T1, when paired with a cellular/satellite unit from TracPlus, meets NAFC Standard requirements for tracking, event data collection and messaging.
Data Securely Stored and Displayed with TracPlus
Paired with RockAIR or DZMx, AFDAU-T1 seamlessly and securely sends operational data throughcellular / satellite to your TracPlus account for easy analysis and reporting.
Easy installation and minimal pilot input
The AFDAU-T1 ATU is easily installed into your aircraft, and once installed, requires minimal pilot input in a busy cockpit.
Reliable, Accurate and Cost-Effective
The AFDAU-T1 ATU is a cost-effective solution to capturing reliable and accurate operational data.
AUTOMATED REPORTING
Events reported automatically to NAFC's ARENA software include:
Real time GPS position of events
Engine start and stop,
Take-off and landing,
Entry and exit from hover,
Fill and drop events - including fill/drop volume, drop type (split or full) and product type (water, gel, foam, retardant)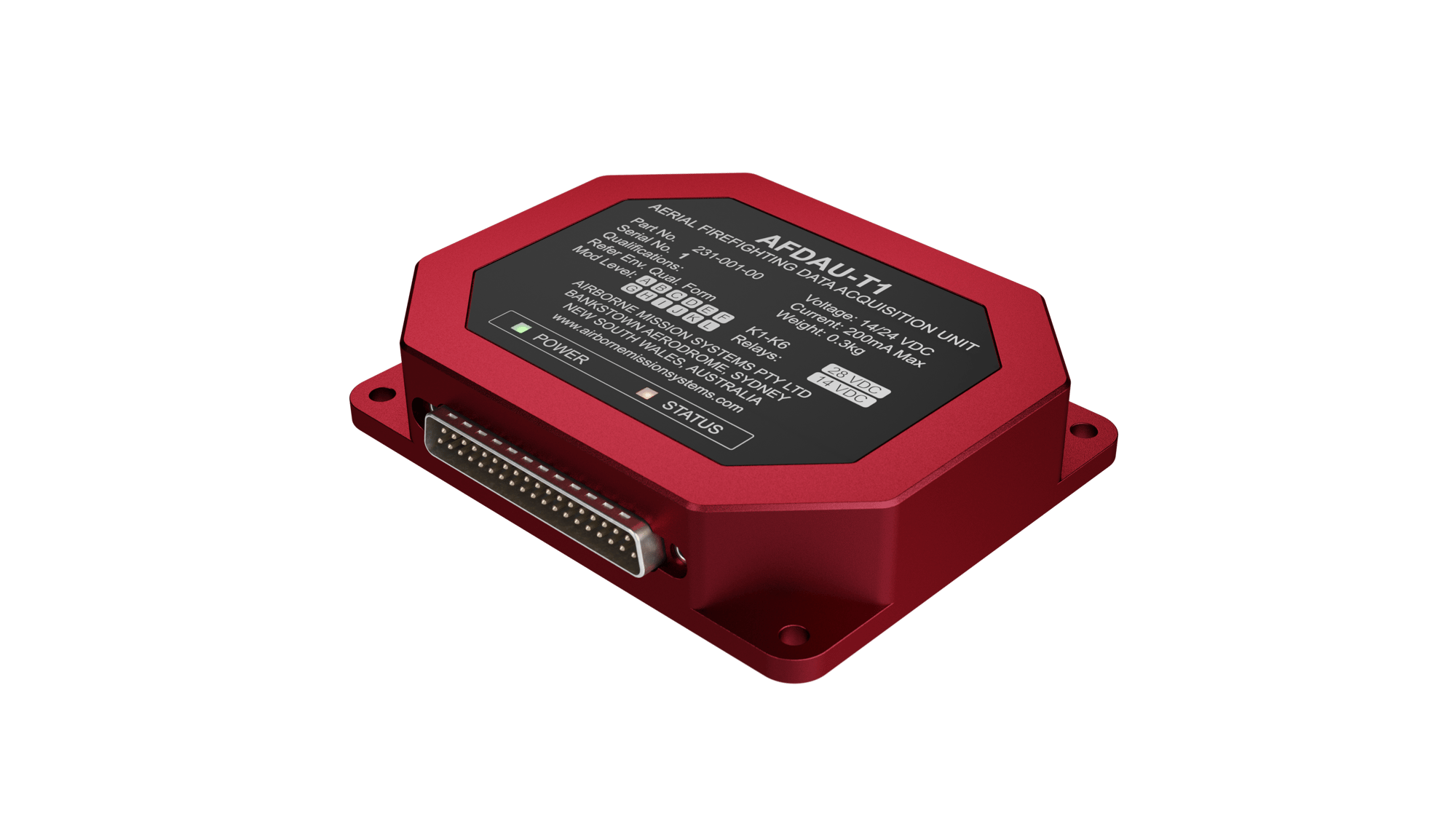 "NAFC has followed the development of the AFDAU-T1 unit closely and are encouraged to see this equipment become available for Firefighting Aircraft in Australia. NAFC is pleased that there is now an additional device on the market for operators wishing to fulfil contractual event reporting requirements, particularly the difficult task of reporting firefighting bucket fill and drop volumes."
"These old systems were hugely costly to purchase, and even more costly to an operator when they fail in the middle of a busy firefighting season. We created AFDAU-T1 to be affordable, easy-to-use, and to reliably capture accurate data to minimize risk of non-payment. With AFDAU-T1, everything is automated."
"In 2018, we started to trial AFDAU-T1 in one of our BK117's. We had been looking for an alternate and cost-effective solution to meet our contractual firefighting needs and saw the TracPlus/AFDAU-T1/RockAIR combination as a possible solution. We've now collected data using AFDAU-T1 through one very busy fire season and the results have been outstanding. We are now planning to upgrade our legacy systems through the fleet."
Specifications
AFDAU-T1 product details
Dimensions

98 mm x 120 mm x 27 mm (3.8″ x 4.7″ x 1.0″)

Weight

300 g (10 oz)

Connectors

37 Pin D-Sub (Male Pins)

Inputs

4x RS232 Ports

1x USB Port (Configuration Port Only)

1x CAN Bus

General Purpose I/O

6x 28v Tolerant GPI's, Open/GND sensing

2x General Purpose Outputs
| | |
| --- | --- |
| Casing / housing | Red anodised machined aluminium chassis with black anodised backplate and Autotex F200 Polyester electric lighted fascia. |
| Input voltage | +14/28VDC |
| Power consumption | 0.2A max |
| Environmental rating | TBD (Expect DO - 160) |
Documentation
Learn more about your AFDAU